Hi, I'm Matt.
I'm a technology guy who works in the software engineering space managing development teams. Besides work I have a pretty serious Jeep hobby, practice yoga, play a lot of ultimate, and snap a few photos from time to time.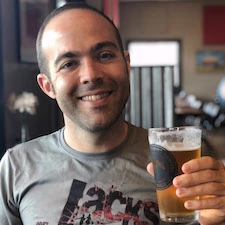 Career
Growing up in New Jersey and Florida I graduated with an IB diploma from Stanton College Preparatory School in 2003. I headed off to the Georgia Institute of Technology and got out with a BS in Computer Engineering in 2006, magna cum laude.
I co-founded and was a partner / owner at iMobile3, a mobile payments company. We were acquired by TSYS, now Global Payments, in June 2018.
After a successful transition I left Global and worked as an engineering manager at Olo using my knowledge of customer loyalty and payments processing. Olo successfully went public in March 2021.
My resumé is available on LinkedIn.
Hobbies
I have always enjoyed photography (mostly portraits and landscapes) and maintain a small portfolio. I have helped manage the image archives of major publications and sports teams and spent a number of years on fields and courts for club and college sports organizations.
My Jeep, a custom rock crawler based on a 2004 Wrangler, has been a long-term project.
I have practiced Baptiste yoga for a number of years and am a certified teacher, currently instructing at MBody Yoga.
I live in a home built in the 1890s with my family in historic Springfield along with some backyard chickens and a French bulldog.
I own and run a small classic auto restoration and service business called Bishop Classic Motors, also in Springfield.